Recently I had the opportunity to do something I have never done, and that was visit the Bahamas. First of all, let me start by saying that the ocean in the Bahamas does not even come close to comparing to the Ocean in my normal spots ( Florida and New Jersey). It was breathtaking.  However, I didn't expect some of the things I encountered. Some seem silly now that I look back and think about them.
I found that as Jason and I started to walk out into the ocean, we encountered the coral reef, which is not comfortable to walk on.  I kept thinking, "wow I wish I had some kind of shoe on so this wouldn't hurt so bad." And as we walked Jason kept leading me deeper and deeper into the water. Before too long, I was standing on my tip toes just to keep my head above water. My heart begins to pound, and fear begins to take over. I said to Jason, "Hey maybe we should go back to the beach." He assured me we were fine, and I quote "Gina, Just relax!"
Let me pause right there, relax seems like a far-fetched idea that I like to think about and say that one day I will do but in practice, relax isn't something I do well. Just ask the Chiropractor and the people who have tried to give me a massage. Where they tell me over and over "relax".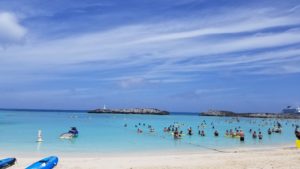 So here we are in the most beautiful place I have been in my life, the water is clear I can see the fish swimming around me. I am with my favorite person and I am filled with fear! Then Jason has a brilliant idea. He thinks we should just lay on our backs and float. So… he attempts to help me with this. This becomes a comical scene in which I am sure everyone around us thinks I am crazy. (which we know already!) Jason finally lets go, and there I am floating in the Ocean looking up at the beautiful blue sky with traces of white clouds. It was then I heard His Voice (at first it sounded a lot like Jason- when he said "Gina's that is what God wants to do for you!) As my heart begin to settle, God in his love for me- spoke.
In His still small voice, spoke my name. He began to break down some things that I had been struggling with and he ask me again- "Gina do you trust me? Do you trust me with your future? Your children? Your ministry? Do you really trust me to lead you and hold you when you feel like you will sink?"
The song Oceans came to my mind…
You call me out upon the waters
The great unknown where feet may fail
And there I find You in the mystery
In oceans deep
My faith will stand
And I will call upon Your name
And keep my eyes above the waves
When oceans rise, my soul will rest in Your embrace
For I am Yours and You are mine
Your grace abounds in deepest waters
Your sovereign hand
Will be my guide
Where feet may fail and fear surrounds me
You've never failed and You won't start now
So I will call upon Your name
And keep my eyes above the waves
When oceans rise, my soul will rest in Your embrace
For I am Yours and You are mine
Spirit lead me where my trust is without borders
Let me walk upon the waters
Wherever You would call me
Take me deeper than my feet could ever wander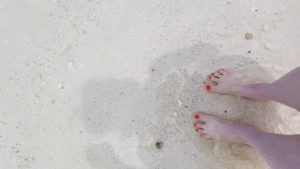 Before too long the laughter turned to tears as my tears rolled into the deep ocean. I floated for a few more minutes. And we began to make our way back to the beach. I wish I could tell you that I was relaxed and filled with a renew trust. Instead I knew that this was the beginning of some work I needed to do. Or maybe perhaps a better way to say it would be work that God needed to do in me.
In Philippians 1:6 it says this promise to us…  being confident of this, that he who began a good work in you will carry it on to completion until the day of Christ Jesus. God is faithful to complete his work in us.
And as we were walking back to the beach, we encountered that reef again. God reminded me- Gina you can swim. You don't have to walk over this painful part- you can swim. It was such a profound moment for me. I started to swim. Something I hadn't done in years. Something that I hadn't found the time for, or thought I was good at. And instead of walking over the pain, I swam through it. Its funny the things we walk through that if we would just relax we could swim over.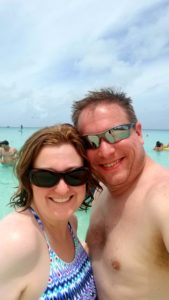 This time in the Ocean- is still working in me. I believe God was preparing me for what was to come. Since I have come home, two people I loved have passed away. I have had to deal with family situations that were hard and continue to need wisdom, grace and courage. Professionally and in my ministry, there are things that have come up that I wasn't prepared for and have sent me to my knees desperately seeking the One who calls me my name in the middle of the Ocean and sees me in the turmoil of my realities.
I came across a scripture again that I have read many times found in 1 Thessalonians 5. 16 Rejoice always, 17 pray continually, 18 give thanks in all circumstances; for this is God's will for you in Christ Jesus. 19 Do not quench the Spirit. 20 Do not treat prophecies with contempt 21 but test them all; hold on to what is good, 22 reject every kind of evil. 23 May God himself, the God of peace, sanctify you through and through. May your whole spirit, soul and body be kept blameless at the coming of our Lord Jesus Christ. 24 The one who calls you is faithful, and he will do it.
Some great truths to remember there. But then verse 24- the One who calls you (me) is faithful- and HE WILL DO IT!
He has called me- and he made no mistake by calling me by name. And he is faithful. He will do it. I must rejoice always, pray, give thanks accept his will for me. I am who he says I am not who any one in this world says I am… and as he has confirmed so many times in my life. I am his masterpiece. (Ephesians 2:10)
And so are you!